Our passion for travel and road trips allows us to indulge in the finest coffee varieties from different parts of the globe, and we have developed a special fondness for freshly roasted Specialty Coffee. Its distinct flavors and smooth taste have captivated our palates.
In 2020, having spent years relishing, exploring, and acquiring knowledge about Specialty Coffee, we made the decision to establish our own roasting business. We aptly named it GREATKUP COFFEE, as we all share a common love for indulging in a truly exceptional cup of coffee.
Our primary goal is to provide custom roasted whole bean, ground coffee, and k-cup options featuring freshly roasted coffee beans, which we roast in small batches. Despite the Covid lockdowns, we took the leap and introduced GREATKUP COFFEE as an entirely online venture, with a primary emphasis on made-to-order, freshly roasted coffee for both retail and wholesale purposes.
Our base of operations is situated in the Northeast Suburbs of Ohio. We strongly endorse responsible coffee trading principles such as Direct Trade, Fair Trade, Organic, Eco-Friendly Cultivation, Co-Ops, and other economic practices that positively impact the coffee farmers and their communities at the local level.
In order to cater to your specific coffee preferences, we present you with freshly roasted coffee in three forms – Whole Beans, Ground Coffee, and Greatkup Coffee K-Cup Pods (Single Serve). We take pride in being the first to offer Made-To-Order K-Cup Pods featuring freshly roasted coffee.
Our Ohio-made coffee is shipped directly to your doorstep.
At GREATKUP COFFEE, we place significant emphasis on the sustainability of our planet, recognizing that we only have one Earth to live on. We wholeheartedly support Direct Trade, Fair Trade practices to ensure that farmers receive their fair share, and we prioritize the preservation of natural forest areas and the reduction of the effects of Climate Change through the use of eco-friendly practices.
We are also highly conscious of our packaging and delivery methods for your preferred coffee products. Our shipping boxes are crafted from 100% recyclable materials, our Single Serve Cups (K-Cups) are 100% biodegradable and compostable, while our Ground/Whole Bean bags are reusable and come equipped with One-Way Degassing Valves to preserve the freshness of the coffee for longer periods.
In our efforts to minimize printed material, we rely primarily on digital content for information, interaction and on-demand printing for product packaging. As a small business, we strive to minimize our cost overheads.
All of our coffee products are proudly made in Ohio, as we invite you to experience our passion for coffee.
In 2022, we extended our passion for coffee by introducing our very own Mobile Coffee Trailer, custom-built at our home (yes, we built our own coffee trailer) at Geauga Fresh Farmers Market (South Russell, OH) in Northeast Ohio. Since then, we have been constantly on the move, roasting and serving our coffee at various locations, events and at special occasions in and around Northeast Ohio.
We are excited to announce that our Coffee Trailer is now available for booking at your events, parties, and anything in between.
You can find us at local farmers markets, where you can enjoy our coffee lattes, teas, bubble teas, and other special beverages. Alternatively, you can also drop by to purchase freshly roasted coffee beans from India, such as our Araku Valley Coffee.
We believe that we are highly distinctive in Ohio's Specialty Coffee scene, being a Coffee Roaster with our own Mobile Coffee Trailer. That being said, we would be thrilled if you could drop by sometime and say hello. Your support and encouragement mean a lot to us.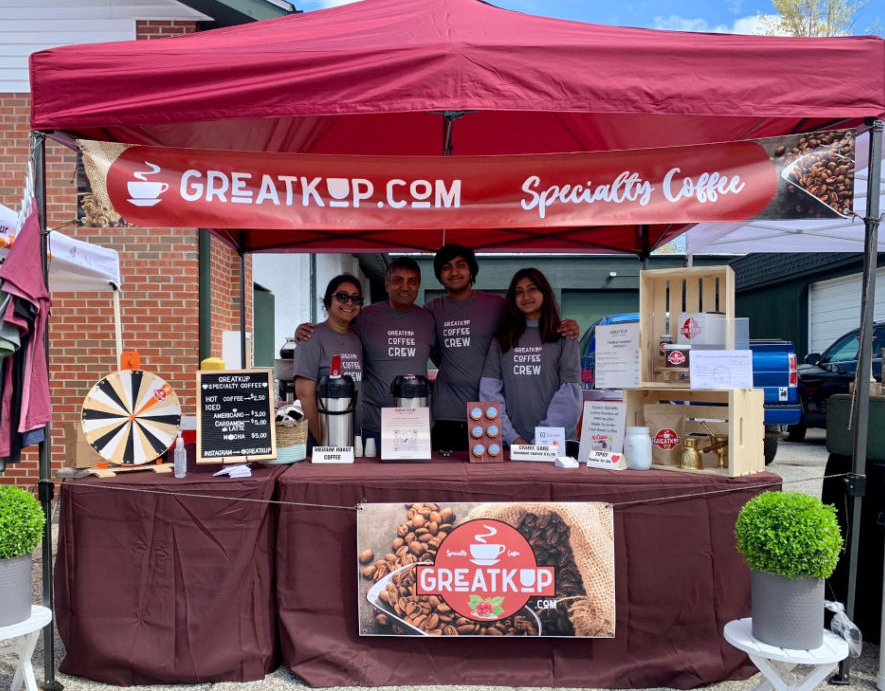 We are a family business and our team is (left to right)
Anamika Dokiburra – CEO and Founder
Kishore Dokiburra – Operations and Co-Founder
Ethan Dokiburra – Happy Helper and avid XBOX Gamer
Amy Dokiburra (OSU) – Social Media Specialist
Momo Dokiburra (not pictured) – Our furry four-legged family member (Chocolate Lab), is not so into coffee! 🙂
Beyond the realm of coffee, our primary identity lies in being parents first and foremost. Additionally, we bring with us a wealth of expertise as seasoned professionals, boasting over 25 years of experience in the domains of IT, Business Intelligence, and Data Science.