WE LOVE COFFEE! – Our love for long road trips and travel provides us with lots of fun opportunities to taste the best coffee from around the world. We were particularly drawn towards Freshly Roasted Specialty Coffee which offers a smooth taste and unique flavors.
We are very excited to start our own Coffee Roasting company, "GREATKUP" and we invite you to taste our Fresh Roast Specialty Coffee. Made To Order, in small batches to preserve the Original Coffee Taste Notes very unique to each type of coffee bean.
Specialty Coffee is grown at high altitudes, with much care and attention from the farmer. Coffee grown at higher altitudes, mostly under shade trees, with different soil and cultivation methods brings out very interesting Taste Notes which are not commonly found in commercially prepared coffee. Some offer Nutty and Fruit Taste Notes and some offer Floral Taste Notes! Fresh Roast Coffee offers the best coffee experience!
We are located in the Northeast Suburbs of Ohio. We support responsible coffee trade practices like Fair Trade, Eco-Friendly Cultivation, Organic, Co-Ops, and economic practices which will benefit the local coffee farmers and their communities.
To match your coffee needs, we offer freshly roasted coffee in Whole Beans, Ground Coffee, and Greatkup Coffee K-Cup Pods (Single Serve). We are the 1st Specialty Coffee Roasters in Ohio to offer Made-To-Order K-Cup Pods with Fresh Roast Coffee. Our coffee is proudly made in Ohio and shipped directly to you.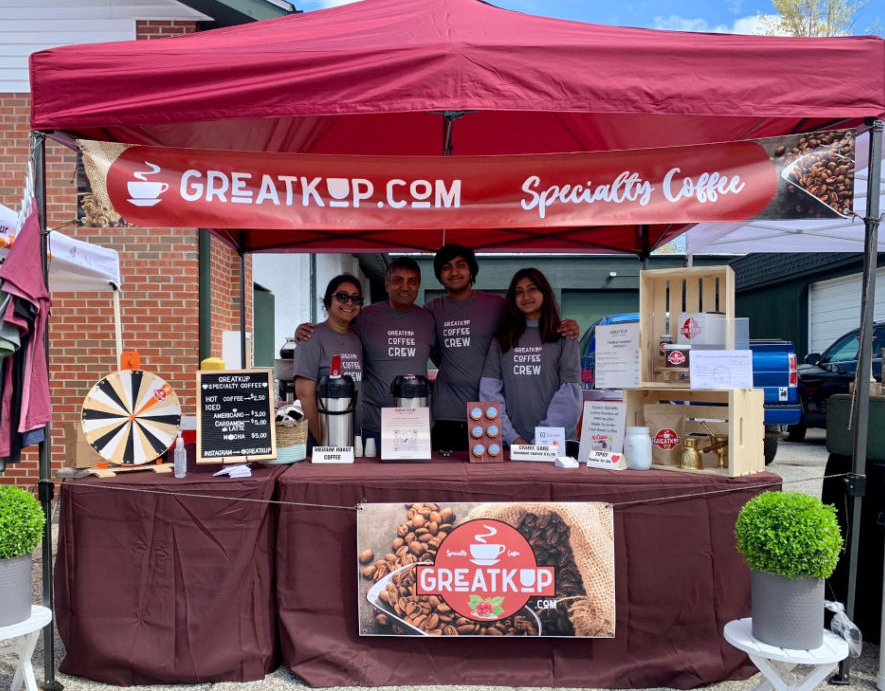 We are a family business and our team is

Anamika Dokiburra – CEO and Founder
Kishore Dokiburra – Operations and Co-Founder
Ethan Dokiburra – Happy Helper and avid XBOX Gamer
Amy Dokiburra (Ohio State) – Social Media Specialist
Momo Dokiburra (not pictured) – Our furry four-legged family member (Chocolate Lab), is not so into coffee! 🙂
PLANET-FRIENDLY – After all, we only have one planet to live on! We strongly support Fair Trade, guaranteeing farmers their fair share, preserving Natural Forest areas, and minimizing the effects of Climate Change through Eco-Friendly practices.
We are also mindful of how we package and deliver your favorite coffee to you. Our shipping boxes are made from 100% Recyclable Materials, our Single Serve Cups (K-Cups) are 100% Biodegradable & Compostable and our Ground/Whole Bean bags are reusable and equipped with One-Way Degassing Valves to maintain a fresh coffee taste for a long time.
We are always looking for opportunities to minimize printed material and rely on digital content for information and interaction.
MADE IN OHIO – All our coffee products are proudly made in Ohio. We invite you to try our coffee as we would like to share our love for coffee! After all, you need a GREATKUP of coffee to start your day!