Coffee is something of a cultural icon in all the South Indian states of India like Karnataka, Tamil Nadu , Andhra Pradesh, Telangana and Kerala. It is customary to offer a cup of coffee or tea to any visitor. Coffee became very popular under British rule. Until the middle of the 20th century, traditional households would not use granulated sugar but jaggery or honey in coffee. (Wikipedia reference).
It is in fact very easy and simple to prepare Indian Style Coffee but you just need the right coffee beans. There are many variations and methods to prepare this classic coffee. For example, "beaten coffee" is version prepared with Instant Coffee powder and very popular in India.
Learn more about on how Instant Coffee is prepared in a commercial setting. Link here Always remember that any preprocessing of coffee alters the taste notes and in many cases reduces the actual caffeine levels too.
Our aim at GREATKUP is to provide you with Fresh Roast Coffee Beans or Ground with shortest time possible so you can enjoy the Fresh Taste of coffee, less acidic and more refreshing.
As a Specialty Coffee roaster, we believe that any preprocessing of coffee reduces the actual caffeine levels and alters the original taste notes very unique to the origin of the beans. For example, you can use any Instant Coffee to prepare Classic Style Indian Coffee but it may not produce the authentic taste. In order to enjoy the authentic taste, beans must preserve the taste notes and coffee origin must be South India. Beans grown in South India offers very interesting taste notes like Nutty, Heavy Body and Dried Fruits. These taste notes are what Classic Indian Style Coffee unique and by adding milk, taste notes are elevated leaving a delicious coffee experience.
If you are looking forward for a truce Indian Classic Coffee experience, we have the RIGHT beans, roasted to perfection. We offer Araku Valley Coffee in Whole Beans / Ground Coffee / K-Cups. Please visit this link for Araku Valley Coffee
In this recipe we would be using French Press to extract coffee from Araku Valley Coffee using hot water. You can try this with Cold Brew as well. This is a hot coffee in general and taste a bit different and can be served on Ice as well.
Classic Indian Coffee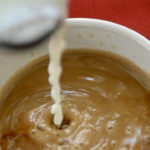 Indian style classic coffee with milk.
1 tbsp GREATKUP Ground Coffee
1/4 cup Milk
1 tsp Brown Sugar (as per the taste)
Add 1 tbsp of GREATKUP Ground Coffee (Araku Valley Coffee) to the French Press

Add 4 Oz of hot water

Seep it for 5 to 6 minutes. For strong taste, seep it for about 10 minutes

Pour the the coffee from French Press into an empty cup (12 oz cup)

Add 1/4 cup of hot milk

Add 1 tsp of brown sugar, mix it well